GreenLove Cleanses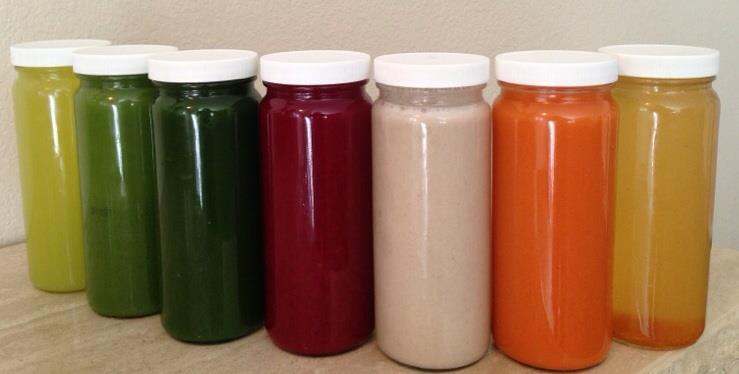 ---
GreenLove Super Juice Cleanse Drinks:
Includes 6-16oz GreenLove Super Juices & 1-16oz Superfood Cashew Mylk
GreenLove
Green Energy


Made with Organic Ingredients
Greens to help alkaline
16 oz

GreenLove
Refresh


Made with Organic Ingredients
Great for digestion
16 oz

GreenLove
Green Glow

Made with organic ingredients
Get the glow. Great for hair, skin and nails with an overall sense of glowing beauty
16 oz

GreenLove
Bunny Hopper

Made with Organic Ingredients
Anti inflammatory and high in Vitamin C
16 oz
GreenLove
Fire Water Kefir Tonic

Made with Organic Ingredients
Energizer
16 oz

Gives you a boost of energy!


GreenLove
Heart Beat


Made with Organic Ingredients
Keeps you heart beating while your inner beauty glows through.
16 oz

GreenLove
Vanilla Cashew Mylk


Made with Organic Ingredients
Protein packed with superfoods. Satisfy your hunger cravings
16 oz


GreenLove
Cacao Cashew Mylk

Made with Organic Ingredients
For chocolate lovers
16 oz
---
A variety of Tibicous Kefir Tonics, Legendary Jun & Kombucha Elixirs available! Visit the GreenLove local Farmers Market schedule to come by and check them out.

---
Add Chia Seeds to your juice to help fight hunger.

---
GreenLove Super Juice Alkaline Cleanse:
Includes 2-16oz GreenLove Green Energy Juices, 2-16oz GreenLove Green Glow Juices, 2-16oz Turmeric Tonics & 1-16oz Activated Cashew Mylk
---
GreenLove Personalized Next Level Cleanse:
Includes 3-16oz Activated Superfood & Superherb Nut Mylks, 1-16oz Hot Tea Tonic, 1-16oz Probiotic Tonic & 2-16oz Elixirs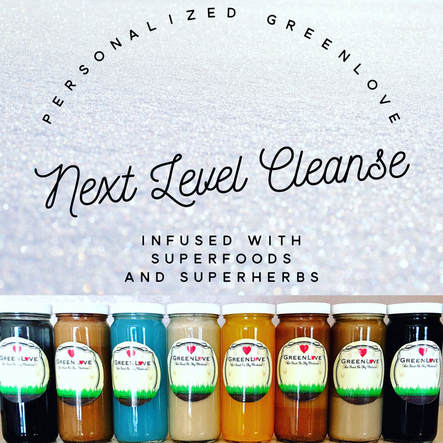 GreenLove Personalized Next Level Cleanse is infused with Superfoods and Superherbs to help you take your daily routine to the next level. This is a great way to start living the next level lifestyle. Personalized to your health goals.

---
Cleanse Essentials:
GreenLove
Detox Tea, Green Tea & Peppermint Tea

GreenLove Detox Tea helps eliminate toxins from the body.

GreenLove Peppermint Tea helps refresh and aid in digestion.
GreenLove Green Tea boosts your metabolism and helps you loose weight
Various other GreenLove Herbal Teas available. Check GreenLove's local farmers market schedule to come stop by and check them out.

Dry Skin Brush

Dry Brushing is a detoxification practice that involves using a brush on dry skin to remove dead skin cells and improve circulation. Brush daily before you get in the shower. Helps get rid of all those cleanse toxins.

Did you know.... that your skin is your largest organ?
Tip: To brush, start at your feet and brush towards your heart to activate circulation.

What is Dry Brushing?
Dry Brushing is a detoxification practice that involves using a brush on dry skin to remove dead skin cells and improve circulation amongst other benefits. Your skin is the largest organ your body has. That's right I said, organ. It releases a pound of waste each day. The skin is also known as the third kidney. It receives one third of all blood circulated in the body. It is said that the skin is the last to receive nutrients in the body and the first to show signs of imbalance.

Benefits of Dry Brushing:
Improved immune system- Dry Brushing stimulates the lymphatic system, which helps move toxins out of the body. Your circulation of blood flow is increased which speeds the body's natural healing process. It is recommended that you brush twice a day if you are ill.

Reduced cellulite- By moving the lymphatic system, you are also stimulating the nervous system and glands, which rejuvenates your nerves and activates muscle fibers, tones your skin and breaks up toxic deposits stored in fatty tissues.

Improved skin texture- When Dry Brushing, you are sloughing off dead skins cells, considerably more than if your skin was wet. You are also unblocking clogged pores and stimulating the oil glands in your skin, which helps with cell turnover. The result is new healthy skin cells and baby soft skin.

Weight loss support- Dry Brushing reconnects you to your body in a loving way. By touching yourself daily, you begin to develop even more gratitude for your body. Dry brushing is very nurturing and the stimulation process allows the body to release toxins (fat) in a gentle way, tone muscles and help digestion. Thus, supporting a health weight.

Deodorized glands- Dry brushing is a practice that you should do daily. When combined with a detox program, you are further releasing stored wastes from your skin, underlining tissues, glands, intestines and other organs. As a result, your sweat and other excretions will become odorless over time.

So as you can see dry skin brushing is very important in the GreenLove cleansing process.

---